Hot water is essential to everyday activities. Whether you're cooking, cleaning or needing a long, hot bath, a broken water-heater can ruin your week. Electric or gas furnace, tank storage or tankless, Bailey Brothers can outfit you with a new water heater or repair your existing. Our seasoned technicians are proficient in diagnosing all water-heater issues and getting you back up and running in short order.
Water Heater Repair
If your hot water has stopped, there's no need to panic. Water heaters are fickle and there are many common water heater issues; pilot lights, thermocouplers, pressure release valves, water leakage and drainage issues. Your issue may be a $20 part. Bailey Brothers plumbers are experts at repairing hot water heaters and have extensive training to deal with the dangerous situations that may arise when fixing water heaters. The potential danger of leaking gas reaching the pilot light is not one for the average homeowner to take on. From thermostat issues to sediment flushing, we can diagnose and fix your hot water heater. If we can't we can help you make an informed decision when selecting a new one.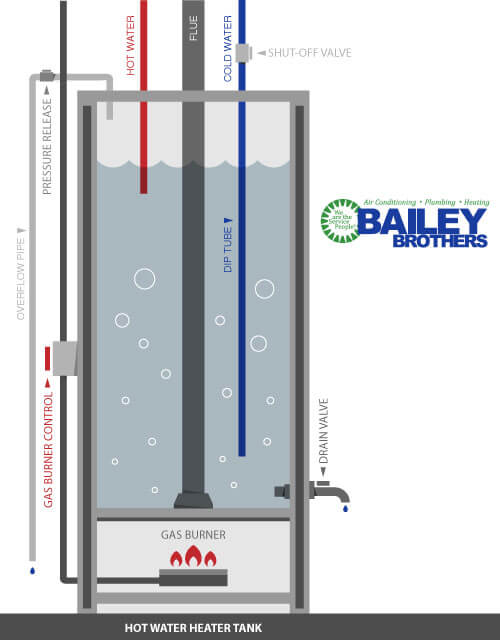 Water Heater Replacement
Selecting the correct water heater for your needs and your house's conduits is key when deciding to which brand and furnace type to purchase. Don't rush the buying process due to the lack of hot water. There are dozens of brands that make hot water heaters and each model has its up-sides and down. Our professional plumbers will help walk you through the decision making process, answer any questions you have on the variety of heaters and help restore hot water to your pipes as soon as possible.
Water Heater Options
Variety of Water Heaters on the Market that can run on Gas, Electric or Solar.
Tank Storage
On-Demand
Heat Pump
Tankless Coil
Tankless Indirect
Criteria to Consider
When determining which system to purchase, first determine your hot water usage, the unit's efficiency rating. Use these two pieces of information to estimate your monthly costs. Choosing the wrong unit can end up costing you a great deal more in the long run.