Fast & affordable air conditioning service, repair, and installation. We service AC units, thermostats, humidity control systems and more. Don't suffer with a broken air conditioner. Call for a free estimate:
Free Estimates
Air conditioner repair
AC tune-ups
Air conditioner installation
Replacement thermostats
Complete HVAC systems
Energy efficient systems
Air quality improvements
Maintenance plans
Air Conditioner Service
Serving the Oklahoma City, Yukon, Bethany, El Reno and Mustang areas
If your central air conditioner breaks down in the middle of the summer, don't sweat it. Bailey Brothers technicians are experienced at repairing all models of AC units, so we can quickly get your air conditioner up and running again. Often it's just a simple repair, like charging or adding refrigerant to the unit. If your AC is beyond repair, we can also recommend a new unit and professionally install it for you. Financing available in new AC units.
Financing available, get pre-approved now: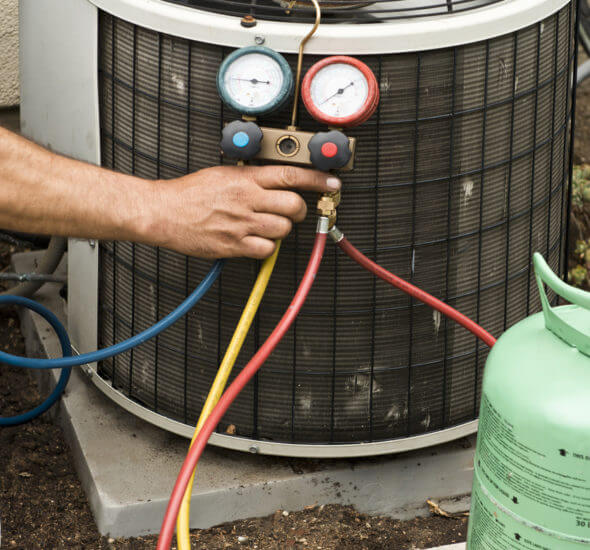 Professional AC Installation
If you've been living with a window AC, your old central air system is worn out, or you want to add a second air conditioner unit for the upstairs, Bailey Brothers can help. Our professional technicians will help you select the right central AC unit for your home or business, and we'll install it according to the manufacturer's specifications.
Complete AC Service and Inspection
Annual inspection and maintenance of your central air conditioning system can extend the life of your unit. Keeping your AC unit is clean and functioning properly will maintain its efficiency, which saves energy and money. An inspection can also find potential problems before they become an issue, reducing the chances that your air conditioner will break down halfway through the summer.
We recommend having your central air conditioning system serviced every year, in spring or early summer. A Bailey Brothers technician will check, clean and tune up your AC unit, including the coils, capacitors, the compressor, electrical connections, and level of refrigerant. With the unpredictable Oklahoma weather, it's best to have your AC serviced early, so you're ready whenever the hot weather hits.