Testing a sump pump is a quick and easy way to help make sure your home will be protected if and when heavy rains hit. We recommend doing this once a month during rainy seasons.
There are two ways to check if your sump pump is working as it should. Note: To avoid damaging the motor, make sure your sump pump doesn't run more than a few seconds without water.
1. Unplug the sump pump and then plug it back in. There should be two separate plugs, so unplug them both but then only plug in the one connected to the pump itself. The pump should turn on immediately. If it does, plug in the other plug and you're done. If it doesn't kick on, your sump pump needs to be repaired or replaced.
2. Run water through the sump pump. This is the easiest way to test a sump pump, because you just grab a bucket of water and pour it into the sump pit until the float raises enough for the pump to kick on. Once the pump starts running, make sure it moves the water out of the sump pit. If the pump doesn't turn on, or it runs but doesn't actually pump out the water, it needs to be serviced or replaced.
If you can't add water to the sump pump pit, you can raise the float arm, but this will only will test whether or not the pump will turn on. Even if the pump motor runs, it's still a good idea to confirm that it will actually remove water from the sump pit.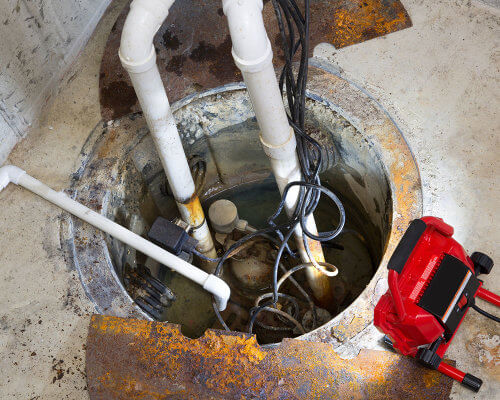 What Do Sump Pumps Do?
During periods of heavy rain, excess water can build up around the outside of a home's foundation. An underground drainage system around the perimeter of the home collects this water and funnels it into the sump pit in the basement or crawl space. This keeps water from leaking into the basement or damaging the foundation. A sump pump pulls this water up out of the pit, outside and away from the home. Sump pump failure can result in flooding or leaks that can cause mold or mildew.
For even more peace of mind, consider adding a backup sump pump to protect your home in case of a power failure or sump pump breakdown during a storm.
If you need your sump pump serviced, or replaced in the Oklahoma City area, call the experts at Bailey Brothers Plumbing at 405-896-9988.