Which Type of Plumbing Pipe is Best?
With so many different types of pipes, does it really matter which you use for your next plumbing project? You bet it does.
The best type of plumbing pipe depends on the application. Copper and polyvinyl chloride (PVC) are the most common pipes for basic residential plumbing, but there are additional options for various uses. Consider the pros and cons of each type when planning your plumbing project.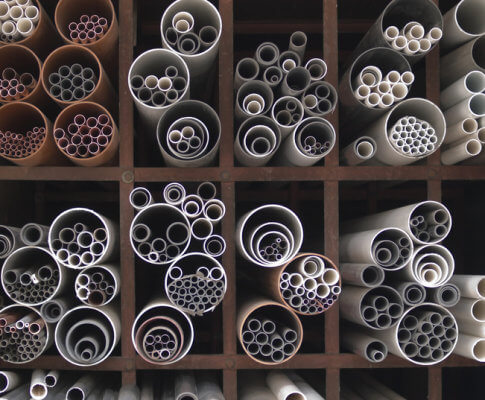 Copper Pipes
Pros of Copper Pipes
Safe for drinking water
Durable
Less likely to leak
Long life
Recyclable
Can withstand hot temperatures
Cons of Copper Pipes
Expensive
Can contain lead-based solder
Copper Pipes Are Best For
Water supply
Longevity – used for over 80 years with many original lines still in use
Polyvinyl Chloride or PVC Pipes
Pros of PVC Pipes
Can withstand high water pressure
Easy to work with across multiple applications
Fairly inexpensive
Long life – doesn't corrode or rust
Great for drainage
Cons of PVC Pipes
Low heat tolerance – best for cold water
PVC Pipes Are Best For
Indoor or underground applications – durable and affordable for home plumbing needs, but can warp or degrade when exposed to high temperatures or UV light.
Chlorinated Polyvinyl Chloride or CPVC Pipes
Pros of CPVC Pipes
Safe for drinking water
Easy to work with across multiple applications
Best for cold or hot water
Cons of CPVC Pipes
Not recyclable
Can't tolerate low or freezing temps
CPVC Pipes Are Best For
DIYers – requires no special tools or skills
Water supply
Cross Linked Polyethylene or PEX Pipes
Pros of PEX Pipes
Very flexible
Fairly inexpensive
Long life
Best for cold or hot water
Cons of PEX Pipes
Uncertainty around possible water contamination
PEX Pipes Are Best For
Tricky retrofits – flexibility allows PEX pipes to be snaked through walls
Galvanized Steel Pipes
Pros of Galvanized Steel Pipes
Won't corrode or rust (unless damaged and the zinc layer weakens)
Fairly inexpensive
Cons of Galvanized Steel Pipes
Extremely heavy
Difficult to repair (usually replaced instead)
Prone to clogging and inadequate water pressure over time
Galvanized Steel Pipes Are Best For
Outdoor use – large construction and industrial projects
Polypropylene Pipes
Pros of Polypropylene Pipes
Reliable and durable
Can withstand high water pressure
Fairly inexpensive
Long life – doesn't corrode or rust
Cons of Polypropylene Pipes
Poor flexibility
Installation requires specialty tools
Polypropylene Pipes Are Best For
Water supply – ends are fused together using heat instead of chemicals